Quality: Yusupov´s berømte træningsserie: "Build Up", "Boost" og "Chess Evolution".
Bl.a. anbefalet af tidligere ungdomslandstræner Mads Boe.
En træningsserie i 10 bind skrevet af en af verdens mest anerkendte skaktrænere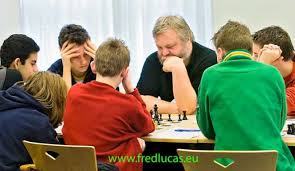 Skriv til os hvis du gerne vil have et samlet tilbud på de bind, som du eventuelt mangler
/ ole knudsen
"Artur Yusupov's nine-volume training series from Quality Chess is [...] one of the best chess training systems in print. His newest title, Revision & Exam 1: The Fundamentals, is a collection of exercises designed to complement the first three books in that series, but it can equally well serve as a stand-alone set of problems for solving.
The problems are well chosen and tremendously varied, the answers are minilessons in themselves, and the production values are high. Players rated above 1600 would do well to make this book part of their training regimen."
John Hartmann, Chess Life
"This book is perfect for those who want to have a coach, and don't have the money. Why? Because the exercises are clearly chosen by one of the best coaches in the world. And while it is true he cannot tailor the training to the specific individual, it is also true that he is forming a curriculum for those individuals who want to become chess masters.
With this book, and the series of 9 books made by Yusupov, we are being taught real chess, and how to reach chess mastery. Still it will be hard and require a lot of work!"
Davide Nastasio, GA Chess News (full review)
"Although this can be used as a book to randomly dip into for a few minutes of entertainment, it is really designed to be used as a series of serious tests rather than for a quick fix of tactical fun."
Sean Marsh, CHESS magazine