Engelsk, 392 sider, paperback, engelsk oversættelse udgivet 2006

En klassiker, der af mange nævnes som en af de bedste skakbøger nogensinde. Blev straks efter udgivelsen nomineret til "English Chess Federation 2006 Book of the Year".
Donner blev som skribent mest kendt for bogen "De Koning" ("The King"), der udkom i 1987. Denne indeholdt 162 af hans skakartikler, skrevet imellem 1950 og 1963.
Donner´s favorittemaer var Bobby Fischer, store overseelser (blunders) i skak, skak som et spil båret af held, hvorfor kvinder ikke kan spille skak, galskab og almindelig nedgøring af hans rivaler til det hollandske mesterskab.
Bogen er en bog fyldt med fornærmelser og ironi, men også typisk med en betydelig mængde af selvironi.
"De Koning" blev udgivet på engelsk i 2006 (denne bog).
Om forfatteren:
Donner (1927-1988) var en af hollandsk skak´s stærkeste stormestre .
Donner vandt flere store turneringer, men indfriede aldrig helt talentet.
Han blev Hollandsk mester i 1954, 1957 og 1958, og blev udnævnt til stormester i 1959. Han repræsenterede 11 gange Holland til Skak-OL.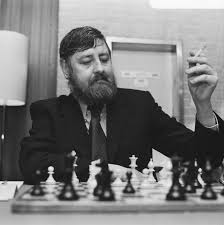 Donner var en farverig person, der valgte at leve et boheme liv. På trods af at han kom fra den hollandske overklasse (faderen var justitsminister og højesterets præsident).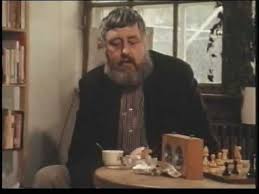 Donner blev også en anerkendt skakskribent, kendt for en provokerende skrivestil.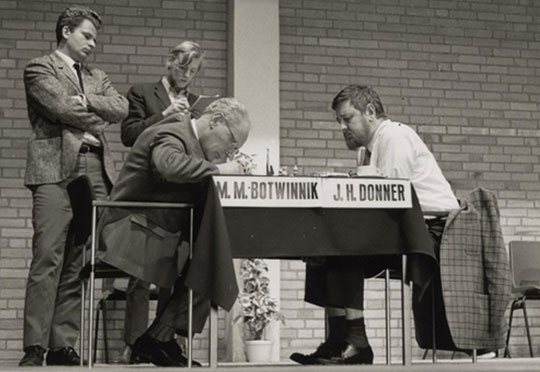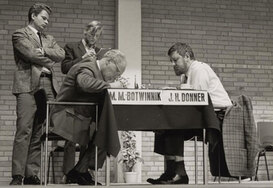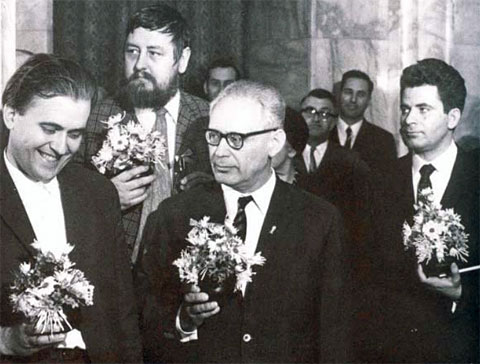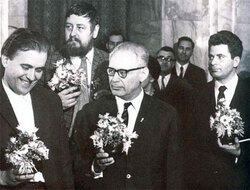 Foto: I 1970 deltog Donner (som den stærkeste hollandske spiller) i en dobbeltrundet match i Holland imod den regerende VM Spassky, eks VM Botvinnik og turneringseksperten Larsen. Vistnok Botvinnik´s sidste store optræden i international turnerings skak.
Efter et slagtilfælde som 56-årig i 1983 var Donner ikke i stand til at gå, og boede på et plejehjem, men fortsatte alligevel forfattergerningen ved brug af kun en finger.

Karakteren Onno Quist i romanen (og filmen) "The Discovery of Heaven" af Harry Mulisch er baseret på personen Donner.
Oprettet af: ole knudsen

Anmeldelser:
Lubosh Kavalek, The Washington Post:
"[An] acclaimed masterpiece. The late Dutch Grandmaster was a brilliant, amusing, provoking and self-mocking author, a master of vertical hyperboles and shortcuts."
Taylor Kingston, ChessCafe:
"His reportorial style reminds one of the 'gonzo journalism' of Hunter S.Thompson fame, and his polemics are reminiscent of such great scourges of hypocrisy as H.L.Mencken (...) If you do not buy this book, and you later realize just how good it really is, and what a treasure you have missed, you will feel depressed, and deservedly so."
Raymond Keene, chess columnist of The Times (London):
"Absolutely wonderful."
Harry Mulisch, author of 'The Discovery of Heaven':
"This book is about chess only in appearance, and I hope that no one will allow himself to be scared off by the diagrams and the annotations. It is in fact a magnificent self-portrait of Hein Donner, the player, the equally fearless and hilarious provocateur, who, when the chips are down, will always be found on the right side."
Bob Long, Chessco:
"Totally absorbing. Any insightful person should have this book."
Paul Motwani, The Scotsman:
"An irresistible gem of a book, that weighs in at 390 pages, yet never looses the seemingly magical lightness of its text."
John Saunders, British Chess Magazine:
"A work that all chess players should own. It would probably be my only 'desert island' chess book."
Malcolm Pein, chess columnist of The Daily Telegraph:
"Donner was the wittiest, most irreverent writer of his generation. The book is a triumph."
John Donaldson, Inside Chess Magazine:
"Donner was witty, opinionated and often cranky, but he was always fun to read - assuming of course you weren't the object of one of his attacks."
Sarah Hurst, Chess Moves:
"The most outrageous chess book money can buy."
Jeremy Silman, author of 'How to Reassess Your Chess':
"Far and away the finest chess writing ever seen (...) Trust me, you don't want to be without this book."
Tim Krabbé, author of 'The Vanishing':
"Eminently readable for chess players and non-chess players alike."
Mike Fox and Richard Jame
s, Chess Magazine:
"A magnificent portrait of a remarkable man, as well as one of the funniest chess books ever written."
GM Peter Svidler, four-times chess champion of Russia:
"I felt I deserved a little present and bought myself 'The King'. It is every bit as good as it is said to be."
Mark Donlan, Chess Horizons:
"One of the few chess books that made me laugh aloud. It is the only chess book that ever similarly amused my wife (...) This is THE BOOK to put on your Christmas or birthday wish list."
Rick Kennedy, ChessVille:
"A perfect gift for a chess-friend who likes a good tale told with verve and a fresh perspective. Do pick up a couple of copies, though - if you peek inside you might not want to let go of the first one!"
Fred Waitzkin, author of 'Searching for Bobby Fischer':
"The book has blown me away.