Engelsk, 375 sider, udgivet 2018
- med undertitlen "A Solid and Straightforward Chess Opening Repertoire for White"
Modtog "Chess Pub 2018 Book of The Year Award" for bogen.

Dette er en praktisk repertoirebog.
Forfatteren har her udvalgt en række varianter, der er nemme at lære.
Du skal ikke ofre noget, og behøver ikke lære lange taktiske forviklinger.
Varianter som ikke nødvendigvis er de mest kritiske, men stadig ubehagelige for sort at møde. Og som det måske vigtigste: ikke behøver den store vedligeholdelse på klubniveau.

Bogen omhandler ikke kun de første åbningstræk, men giver mange anvisninger på varianter, der rækker ind i midtspillet.
Her kan du se Sielicki´s valg af varianter:

Part I: Open Games: 1.e4 e5
009 Introduction
012 Chapter 1: 2.Nf3: rare lines
016 Chapter 2: Philidor's Defence: 2.Nf3 d6
024 Chapter 3: Petroff Defence: 2.Nf3 Nf6
028 Chapter 4: Three Knights Game: 2.Nf3 Nf6 3.Nc3
033 Chapter 5: Scotch Four Knights: 2.Nf3 Nc6 3.Nc3 Nf6 4.d4
041 Chapter 6: 4...exd4 5.Nxd4
046 Chapter 7: 4...exd4 5.Nxd4 Bb4
053 Chapter 8: 5...Bb4 6.Nxc6 bxc6 7.Bd3 d5 8.exd5 cxd5 9.0-0 0-0 10.h3
060 Sample games
Part II: Sicilian Defence: 1.e4 c5
081 Introduction
085 Chapter 9: Rossolimo Variation: 2.Nf3 Nc6 3.Bb5, sidelines
092 Chapter 10: Rossolimo with 3...g6
099 Chapter 11: Rossolimo with 3...e6
105 Chapter 12: Rossolimo with 3...d6
109 Chapter 13: Moscow Variation: 2.Nf3 d6 3.Bb5+ Nd7
113 Chapter 14: Moscow Variation with 3...Bd7
124 Chapter 15: 2.Nf3 e6 3.c3
138 Chapter 16: 2.Nf3: other lines
148 Sample Games
Part III: Caro-Kann Defence: 1.e4 c6
185 Introduction
187 Chapter 17: 2.Nc3: sidelines
191 Chapter 18: Two Knights: 2.Nc3 d5 3.Nf3 dxe4
196 Chapter 19: Two Knights with 3...Bg4
204 Chapter 20: Two Knights with 3...Nf6
210 Sample games
Part IV: French Defence: 1.e4 e6
223 Introduction
226 Chapter 21: Exchange Variation: 2.d4 d5 3.exd5 exd5 4.Nf3, rare lines
231 Chapter 22: Exchange Variation with 4...Bd6
240 Chapter 23: Exchange Variation with 4...Nf6
249 Chapter 24: Exchange Variation with 4...Bg4/4...Nc6
256 Sample games
Part V: 1.e4: other moves
267 Introduction
270 Chapter 25: Pirc Defence: 1...d6 2.d4 Nf6 3.Nc3 g6
278 Chapter 26: Modern Defence: 1...g6
284 Chapter 27: Philidor and rare lines after 1...d6
294 Chapter 28: Scandinavian: 1...d5 2.exd5, rare lines
299 Chapter 29: Scandinavian: 2...Qd5 3.Nc3 Qd8
304 Chapter 30: Scandinavian: 2...Qxd5 3.Nc3 Qa5
312 Chapter 31: Alekhine's Defence: 1...Nf6
320 Chapter 32: 1.e4: rare lines
328 Sample Games
359 Index of players
361 Explanation of symbols
363 Bibliography
365 Author's biography
Min vurdering af målgruppen: en rigtig god lærebog for junior eller klubspillere i niveauet fra 15-1600 i rating. Der søger et sundt basissystem med 1.e4.
Jeg vil mene at bogen kan bruges op til 2100 niveau. Derefter behøver du mere dybdeborende åbningsbøger, f.eks. fra Quality!
Om forfatteren: tysk IM. Stor erfaring som skaktræner.
Driver den populære YouTube kanal "ChessExplained". Varianterne er først afprøvet på denne kanal sammen med hans studerende, og først derefter endelig redigeret og frigivet som bog.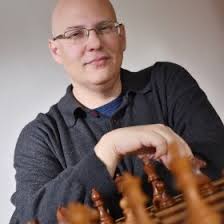 Foto af Christof Sielecki

Se pdf eksempel her: Keep It Simple: 1.d4

Oprettet af: ole knudsen

Anmeldelser:

Grandmaster Glenn Flear, author of 'Starting Out: the Open Games':
"Sieleckis's repertoire is sound and annoying. Exactly the sort of thing that will make many an opponent groan."

National Master Timothy McGrew:
"IM Sielecki has poured an insane amount of time and effort into crafting this White repertoire, focusing for the most part on lines that are used by top GMs but that lie outside of the main streams of opening theory. Because the coverage of every option is so extensive, purchasing 'Keep it Simple: 1.e4' really is like buying a set of repertoire books. If you are an ambitious player rated 1500 or higher, and you'd like to round out a serious, bulletproof 1.e4 repertoire suitable for employment up to the titled player level, and you're ready to squeeze your opponent when the position calls for squeezing and to blitz him when it calls for a lightning strike, you simply can't lose here."
International Master John Donaldson:
"An opening repertoire based on simple and straightforward lines that pack some poison (..) Sielecki has been careful not to overwhelm the reader with too much analysis."

National Master Han Schut, Chess.com:
"An excellent book that delivers exactly what the title states: A relatively simple (700+ variations!), solid and straightforward repertoire. Many 1500+ players will be very happy that this repertoire is now available."