Quality: Parimarjan Negi´s 5-binds serie "Grandmaster Repertoire 1.e4 vs ..."
Det var noget af et scoop, da Quality i 2014 kunne præsentere en ny serie med Indien´s barnestjerne Parimarjan Negi, der på det tidspunkt var blevet 21 år og på vej imod verdens toppen. Direkte fra maskinrummet i et af verdens stærkeste skaklande. Skrevet af en stærk spiller, der forstår at formidle og ikke veg tilbage for at afsløre nye ideer.
Negi er født i 1993, og blev stormester som 13-årig. Har vundet Politiken Cup (nu "Xtracon Chess Open") 2 gange, i 2009 og 2013. I 2014 spillede Negi førstebræt på Indiens hold ved Skak OL i Tromsø, hvor Indien vandt bronze: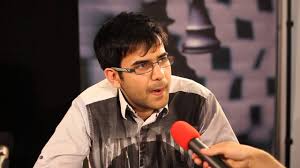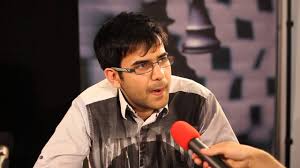 Foto: Parimarjan Negi ved Skak Ol 2014 i Tromsø
Som 20-årig toppede Negi´s rating i 2013 med 2671. Siden har det virket som om Negi har haft svært ved at tage de sidste skridt imod verdenseliten.
Men uagtet dette, så var det et scoop at vi her har en velskrevet åbningsserie af en topspiller.
Serien består af:
Bind 1. "1.e4 vs The French, Caro-kann and Philidor"
Bind 2. "1.e4 vs The Sicilian I". Dette bind omhandler varianter imod Najdorf
Bind 3. "1.e4 vs The Sicilian II". Dette bind omhandler varianter imod Dragen, Accelereret Drage, Rauzer, Varianter med 4.-,e5 og endelig Sveshnikov.
Bind 4. "1.e4 vs The Sicilian III". Dette bind omhandler varianter imod 2.-,e6. Altså Taimanov, Kan, Scheveningen + det løse, der ikke behandles i de tidligere bind.
Bind 5. "1.e4 vs Minor Defences". Dette bind omhandler varianter imod Alekhines forsvar, Skandinavisk, Pirc og Modern. Plus sorts andre off-beat muligheder.
Anmeldelser af serien:
"Quality Chess continues to produce an astonishing amount of high-quality opening books, and the latest offering from the Indian GM Parimarjan Negi – 1.e4 vs The French, Caro-Kann & Philidor – is no exception. Actually, this book should be recommended reading for any young (or old!) player who aspires to grandmaster level and above. It's nothing to do with the specific analysis of these openings (although that is superb of course) but it's more to do with the attitude to opening preparation that Negi demonstrates...
It's so good! It shows everything that you need to produce world-class preparation."
GM Matthew Sadler, New in Chess
"I know Parimarjan well enough to know what he is capable of when it comes to chess analysis. He was foolish enough to be totally honest in his book, not hiding anything from the readers, and now a bunch of new creative ideas in 1.e4 is out there in the open. The day after the book was on sale I won a nice game at the Olympiad with White against a French Defence in a topical variation, following one of his recommendations. No, it was not a coincidence! And yes, I am a quick reader."
GM Anish Giri
"I'm a hard man to please, and no more so than when it comes to chess books. I expect honesty, I expect diligence, I expect innovation, and, perhaps most difficult of all, I expect my short attention span to be entertained at all times. It's a tough sell, I grant you.
But every now and then, every once-in-a-FIDE-cycle, a book comes along that seriously impresses me. And recently, I received another of these rare, pleasant shocks. Indian GM Parimarjan Negi's first book of his 1.e4 repertoire series is a real stand-out, an excellent piece of chess authorship. And it even kept me engaged!
The analysis in this book is ahead of its time in terms of theoretical relevance, and I dare say will prove to be the benchmark for 1.e4 theory for several years to come."
GM David Smerdon, Chess.com (full review)
"Many authors add in explanations these days, but Negi goes further. It's pleasant to see so much informative text in a book which is supposed to be pushing at the boundaries of theory. It's all there: the background, the relevance in practice, the logic, the threats and all the strategy, all flowing in a style that is a pleasure to read and gives the impression that it's been well thought through."
GM Glenn Flear, New in Chess Yearbook
"Quality Chess has produced many fine opening books, but [this] might arguably be the best one so far.
Negi doesn't just regurgitate current theory. There are many interesting novelties and lots of original analysis in this volume... What makes this book special is Negi's communication with the reader. He carefully explains why he chooses one line over another and what led him to do so."
IM John Donaldson, Chess Today
"The Indian GM Parimarjan Negi may be little known in this country, but as a result of this book, that is likely to change abruptly!
For me this book is a highlight from Quality Chess. Super analyses and great comments makes the book more than satisfactory."
Martin Rieger
"Summing up, I think readers will be very impressed by the quality of the analysis, but none of it can be learned quickly. This is a book for hard working chess players who already play at a high level, typical of the standard we have come to expect from Quality Chess's Grandmaster Repertoire series."
Sean Marsh, CHESS magazine
"Another hit from the Grandmaster Repertoire series. If you want a reference book, you need look no further."
Dennis Calder (full review in German)